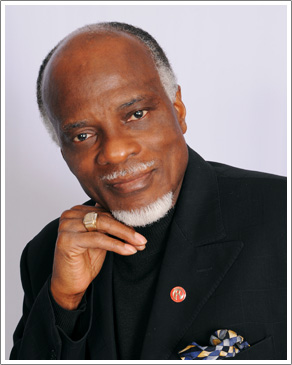 Bishop Peter Morgan
Wisdom From Bishop Peter Morgan
"Life is about negotiation; negotiation is an art that needs to be learned very well in order to succeed in all life's endeavors. When excellent art of negotiation has been attained, it must be applied with a heart and a mindset of equanimity in order to achieve a peaceful and contented end with the parties involved in the negotiation."
"Every human initiative and acquisition are good so long as they do not violate spiritual, natural, ethical and moral laws. But they are even better when they are dedicated to the service of the spiritual, physical, ethical and moral well-being of humanity."
"Nothing is and can be absolutely sure with man since we are mortals with inadequacy, flaws and limitations."
"It's unintelligent and absolutely ignorant for any sensible human being to rate, value or oppose his fellow human being in the light of gender, race, creed or skin color."
" It has never been that both secular and sacred Leaders haven't spoken good, intelligent and unifying words. The problem had rather been that the people had not always esteemed the Leader enough to accept his words, act upon his words, in order to accomplish the ultimate purpose of his words."
"Be courteous to all, but intimate with few, and let those few be well tried before you give them your confidence."
"I hope I shall possess firmness and virtue enough to maintain what I consider the most enviable of all titles, the character of an honest man."
"Let your heart feel for the afflictions and distress of everyone, and let your hand give in proportion to your purse."
"A slender acquaintance with the world must convince every man that actions, NOT words, are the true criterion of the attachment of friends."
"Arbitrary power is most easily established on the ruins of liberty abused to licentiousness."
"Associate with men of good quality if you esteem your own reputation; for it is better to be alone than in bad company."
"Happiness and moral duty are inseparably connected."
"Friendship is a plant of slow growth and must undergo and withstand the shocks of adversity before it is entitled to the appellation."
"Government is not reason; it is not eloquence; it is force. Like fire, it is a dangerous servant and a fearful master."
"It is impossible to rightly govern a nation without God and the Bible."
Songs of Reflection
| | | | |
| --- | --- | --- | --- |
| Artist | Song | Audio | Video |
| Susan Boyle | Who I Was Born To Be | Listen | |
| Maranatha Singers | Lord, You Are So Precious To Me | | Watch |
| Maranatha Singers | Blessed Be The Lord God Almighty | | Watch |
| Maranatha Singers | Great Is The Lord | | Watch |
| Maranatha Singers | You Are The Might King | | Watch |
| Maranatha Singers | Psalm 5 | | Watch |
| Maranatha Singers | Thy Word | | Watch |
| Mandisa | He Is With You | | Watch |
| Maranatha Singers | Draw Me Into Your Presence | | Watch |
| London Philharmonic Orchestra | The Hallelujah Chorus | Listen | |
Bishop Articles by Bishop Peter Morgan